Womens Retreats
Discover Bali Discover Yourself





Ladies! Are you looking for pure holiday bliss, choose from one of these tranquil

 r

etreats,

where you can relax and unwind, no

men no children, just pure bliss.
---
Bliss Sanctuary

This is one of the best womens retreats in Bali. Bliss Experience is not a normal retreat with activities planned every day, but a SANCTUARY where you are able to design your own unique experience according to your personal requirements. For you this may be total relaxation and rejuvenation, massage. yoga or choose from one of their exciting packages.
The Villas are situated at Canggu overlooking lush green paddy fields, just a short stroll from the beach.
---
Bali Goddess Retreat
Bali Goddess Retreat offers a boutique rejuvenation holiday for women of all ages combining health, fitness, culture and lots of pampering! They provide a charming environment where our goddess guests have the opportunity to discover the history, people, food and natural wonders of the Balinese culture while toning the body, expanding the mind, and meeting new friends along the way.
Rejuvenate with sun-drenched dips in their emerald pool or choose to meditate in quiet pavilions overlooking lush tropical gardens. This Sanctuary is tucked away on a private lane, which is located in Seminyak.
---
Surf Goddess Retreat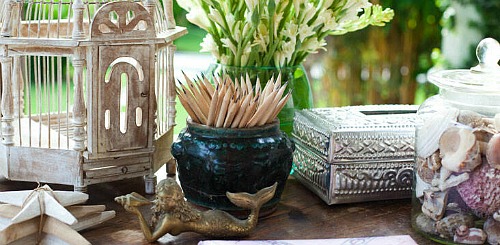 Surf Goddess is a boutique holiday adventure on the magical island of Bali created by adventurous women. One of the original womens retreats for surf and yoga, it has over 10 years experience. They continue to set the standard and be a favorite vacation choice for women the world over.
You have the freedom to tailor your package to suit your individual taste and needs. Perfect for absolute beginner surfers and solo travelers, it provides an enchanting space where you can learn how to surf in a totally positive and supportive environment.
Their villa is located just a few minutes' walk to an expansive beach that runs on uninterrupted for miles at Seminyak. Each room is individually decorated in their own 'Barefoot Chic' that reflects the love of the ocean and the exotcic history of Bali.
---
Escape Haven Retreat
Bali's most awarded women's surf retreat  Surf Haven  is now known as Escape Haven as they have expanded into new locations with new packages. With their refreshed name and look comes two new wellness packages.They offer boutique, intimate, week-long surf & yoga retreat holidays for women along with a range of wellness and detox packages to suit all needs.
Their 5 star luxury villas are situated in Seminyak and lead the way in womens retreats for self indulgent comfort. It lies within its own private tropical oasis.
---
Bali Thrive Retreat

This small group holiday retreat is designed to provide you with a unique, value packed experience. Justine who is your host and yoga instructor has a particular interest in the Science Of Happiness. She will share with you the concepts and practices of Mindfulness, an introduction to simple meditation techniques and some practical and user friendly tools to create your own recipe to Thrive in life.
Situated just a short stroll from the heart of Ubud, the guesthouses are surrounded by lush tropical gardens. They offer an authentic Balinese experience with all western comforts in line with the Thrive philosophy of quality and attention to detail.
Click Here!
clear=all>