Bagus Jati Retreat
Discover Bali Discover Yourself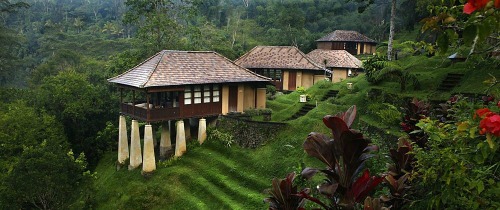 Bagus Jati Retreat
If you are looking for a premier retreat this is it. Bagus Jati Retreat  is set in stunning surrounds in the mountains of Ubud, amongst the tropical forests. All the villas have stunning views and are all very private and spacious with large bathrooms and verandas.
They all have lots of amenities and facilities that you would find in most 5 star hotels. The Deluxe Villa is huge.. 10 meters in diameter with its own jacuzzi and connecting treatment room with massage bed.
Deluxe Spa Villa..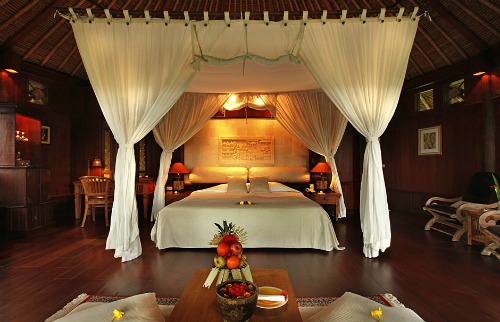 I only stayed for one night to check it out, I can assure you Bagus Jati Retreat is truly top notch. I had a fantastic barefoot Shiatsu Massage, which is given outdoors overlooking a fantastic view, the spa staff are very attentive and are some of the best in Bali. It was one of the best massages I have had ever.
The spa has all the usual treatments- facials, massages of all types, vichy shower, turkish steam bath etc. I had the most amazing treatment, called the Sejati-  it starts with a deep massage for relaxation, followed by a rock salt bath to allow the pores to open and then a wonderful concoction of ginger, cloves and brown rice is applied all over and then they wrap you in a traditional banana leaf  body wrap. While your body is being infused with these delights, they finish it with a head and face massage...sublime.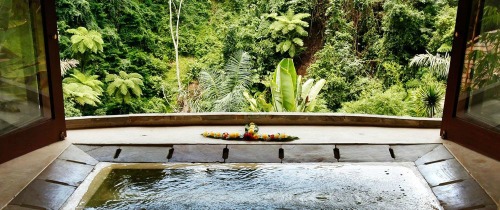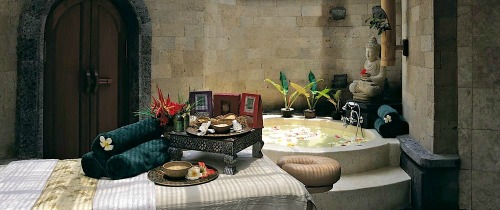 I also attended the 7.30am  yoga class with Pak Wayan. The Yoga class is held in the pavilion which is a magical place, great views, with the sound of the river flowing and jungle noises.... perfect!  All tools, blocks etc are provided. A great way to start the day. Pak Wayan was  a great teacher.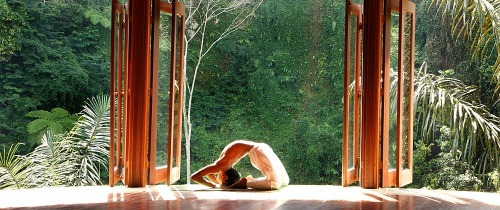 If you want to detox they have 5 and 10 day programs, helping you to remove stress and toxins from the body with detoxifying foods, juices and body treatments. The packages include yoga, meditation, nature walks, counselling sessions and lots of other inclusions.They grow a lot of their own organic produce in the garden pictured below and buy form other Organic Farms for their additional needs. The food was excellent and varied with Indonesian and International dishes to choose from, the views from the dining area were fantastic.
Gorgeous dining room..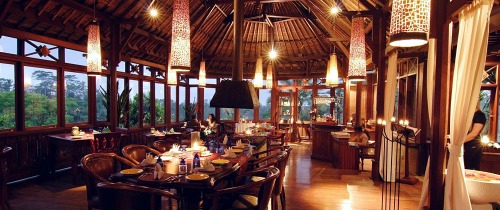 Healthy and delicious...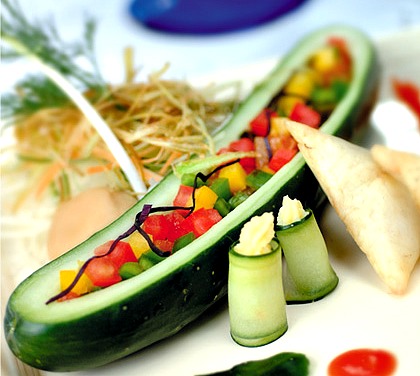 Bagus Jati Retreat
Bagus Jati Retreat has lots of things to keep you occupied.. There is jungle trekking, cycling journeys, village visits, sunset tours and the resort itself has its own state of the art gym, cooking classes, meditation, yoga and for a really spiritual experience, you can have a one on one private class in a beautiful sanctuary... you are taken down to a truly unfforgettable spectacle, tropical trees, flowers, ferns a wonderful waterfall which cascades into a natural pond. There is a temple where the village Hindu  priests offers blessings on special occasions. It is a very private, spiritual place where you can reflect and contemplate while meditating or enjoying yoga.
Click Here!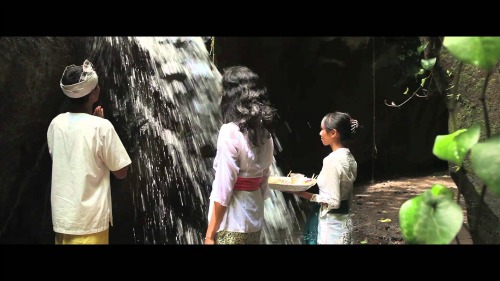 clear=all>