Nuala Retreat
Discover Bali Discover Yourself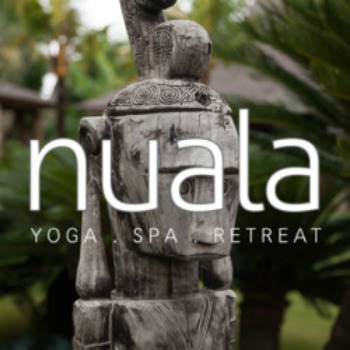 Nuala Retreat is truly beautiful, luxury villas with fantastic service. The host Varney Magill will start you off with a site tour. The villas consist of either a huge king bed or twin beds clasped in white crisp sheets and surrounded by glass sliding doors that lead out to the tropical gardens. There is also a walk in robe and outdoor bathroom, with a huge stone bathtub, shower and double sinks. They have these wonderful tribal shell necklaces as decorations inside and outside the rooms.
Nuala Retreat Experience 
You can choose from different programs. There is a Weightloss Detox Cleanse retreat  which has amazing juices and is complimented with yoga, beach walks, massages, detox baths, meditation and deep relaxation sessions.
They definitely go the extra mile with welcome packs, 24/7 butler, daily housekeeping, complimentary broadband, airport transfers, local calls, nutritional meals, unlimited snacks and if you decide to do the detox, then all your supplements, drinking water and assessments are included.
Depending on which retreat you choose, the activities and excursions can include yoga, meditation, rebounder sessions, holistic/natural therapy consultations, Tarot Card reading, Waterfall Chakra Cleansing Ceremony, Mt. Banur volcano sunrise trek,white water rafting, POD chocolate factory tour, elephant rides, massages, and beauty treatments like vitamin and collagen shots and Weight Loss Body Wraps.
Nuala Retreat caters for families, corporate retreats and also with the expanding list of aesthetic medical clinics growing in popularity you can attend  The Nuala Medi-Spa Rejuvenation program. It focuses on providing you with the ultimate restorative experience, by taking care of your recovery in the beautiful spa surrounds, complimented by an anti-aging or weight loss diet.
To enhance your pampering and rejuvenation time, they suggest some retail therapy. Shoppers will be in heaven in Bali and they provide you with your own private driver to take you to all the great stores.
The food is great and ranges from Raw Food to amazing juices and lovely vegetarian dishes. There is an on site chef who caters for all your needs. Cooking up wonderful creations, three course meals and snacks. The staff are always there if you need extra towels, drinks etc.
Fish Taco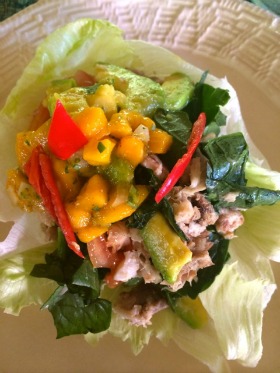 Berry Smoothie
Nuala Retreat is owned by Australian ex-pat Varney Magill. Varney spent many years in Byron Bay and Brisbane before moving to Bali 13 years ago. She is passionate about living well; she mixes yoga, healthy eating and spa services with unique Bali experiences such as chakra cleansing and blessing ceremonies in her retreats.

She knows everyone there is to know in Bali and can design the perfect retreat to your exact needs. If you want to detox and loose weight, she will cater your menu and activities to that need. If your journey is more spiritual, she will design your retreat for that purpose. If you want to get a whole new wardrobe or fill a crate with the incredible home wares that can be found on Bali, she knows the right person to do that for you too.
If you want to bring the kids, she can design a program that will have them not reaching for a screen and loving every moment of it. Varney is your Bali retreat concierge that will be the difference between going to Bali versus really experiencing Bali.
Activities at Nuala Retreat
Click Here!
clear=all>