Ubud Sari Retreat
Discover Bali Discover Yourself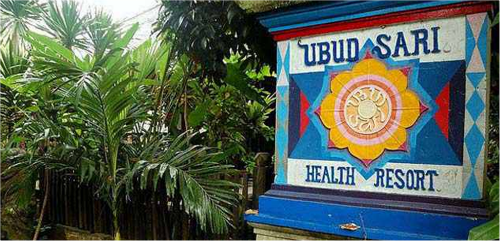 Ubud Sari Retreat is situated approx. 10 minutes walk from Ubud. It is set amongst tropical surroundings and rice fields off a quiet lane way with simple Bali style accommodation. They have established "the Zen Village". The cottages are dominated by rich hardwoods from Borneo, softened by equisite hangings and draperies. They are simplistic, and designed to give you peace of mind. The views are of lush gardens and you can hear the rush of a near waterfall, with the soothing sounds of frogs and birds.
The ZEN cottages were designed using the Balinese traditional wisdom of Asta Kosala Kosali, similar to Feng-Shui, which accounts for the natural laws relating to interior design, configuration, direction and ambiance.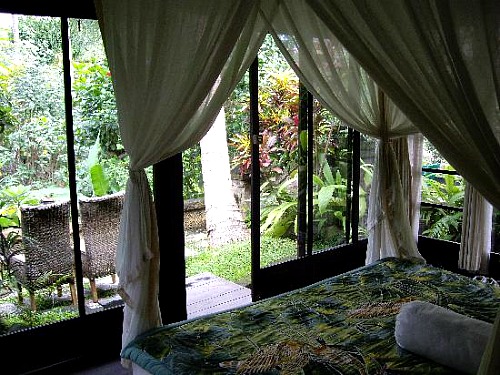 is a pioneer when it comes to health and wellness treatments in Ubud. You can visit for a few hours or you can go for the complete over haul. They have great packages available from 1 day to 2 weeks. You might want to escape for a few hours and visit their spa for a volcanic mud treatment or a warm stone massage, there is lots to choose from.
The Total Special Tissue Cleansing includes 6 days of natural nutritional supplements, juices for fasting, a massage session, colonic hydrotherapy sessions and holistic body treatments. They also offer a popular Raw Health Program, where you can learn about the raw food lifestyle and fasting, and take colonics and meditation sessions to rejuvenate the body and set you on the fast track to optimal health. Whatever you choose you will feel totally refreshed and renewed.
They also provide services of psychologist and other therapists including Deep Tissue Body Work , Shiatsu and.Colonic Hydrotherapy.
The Beauty salon offers everything for nail, hair, face and body only using the finest of products. Phytomer seaweed products from France and Beauty Mineral health and beauty products from the Dead Sea also Neway products from America.
At Ubud Sari Retreat the food is fantastic, local, fresh and served beautifully. They serve you hot ginger and lemon grass tea at 5.30 am before the sunrise walk.  The highlights for me were eating the raw food diet and learning  how to bring it back into my everyday life, and the cooking classes. I was hugely influenced myself and I am still eating 70% raw. It was a great experience. I also enjoyed the walks around the paddy fields, I took lots of photos, so take your camera with you.
The staff at Ubud Sari Retreat are extremely professional, and can't do enough for you. The massages are divine and all the spa treatments are excellent. They have created a quiet, restful and spiritual place to stay. They are always there to see to the comfort of the guests. This place is a great place to stay to pursuit your ongoing health and well being goals.
Even thought the retreat may be a little on the rustic side, if this is not a problem and you want to renew, detox and refresh your body then this is the place for you.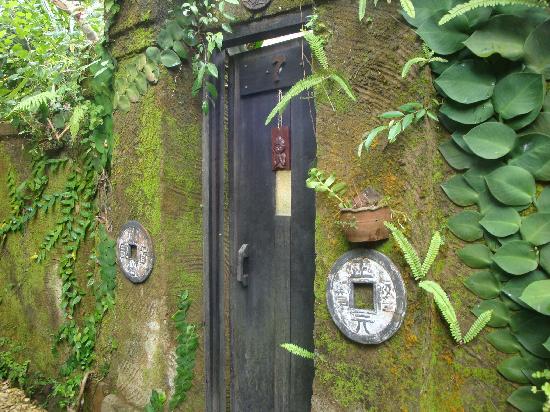 Click Here!
clear=all>