Bali Eco Stay
Discover Bali Discover Yourself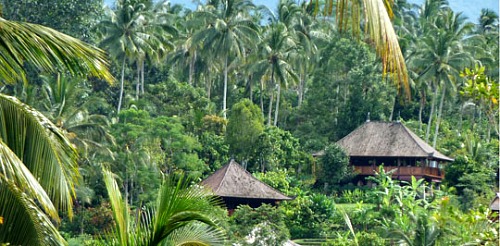 This is a 5/5 eco rating retreat. Bali Eco Stay is surrounded by stunning organic rice fields, mountain fed streams, cascading waterfalls and spectacular views over treetops to the ocean. This is such a unique place, truly Bali at it's best. 
If you really want to go and enjoy Bali without all the tourism, this is it. Other than just sitting back and taking in this amazing place, there are a ton of activities to do  here, from fishing in local ponds, joining in the local ceremonies, mountain biking around the mountains and down to the beach, cooking classes, wood carving, making and flying kites, right down to planting and harvesting rice...
As you can see from the pictures this a real hands on bali experience, the owners of Bali Eco Stay like you to immerse yourself in balinese culture, interacting with the local villagers, while unwinding and rejuvenating. Learn how they generate power from their own hydro plant and taste their pure spring water.
Their meals are organic and  mainly grown in their own permaculture gardens, if not most things are sourced locally. They even make their own unrefined coconut oil.
Their own waterfall...
Bali Eco Stay Restaurant

The Bali  Eco Stay Restaurant, showcasing locally grown timbers, and caters for the Balinese cooking classes.

Bali Eco Stay does not have regular yoga classes, but I have included it in the yoga section because it is such a peaceful place to reconnect with nature and self. The yoga bale overlooks a tropical food forest and is available for personal use and perfect for yoga retreats. They provide all yoga mats, cushions and meditation blankets. You can book out the whole retreat if you have a small group ideally around 14 people.
They do have regular yoga retreats booked throughout the year.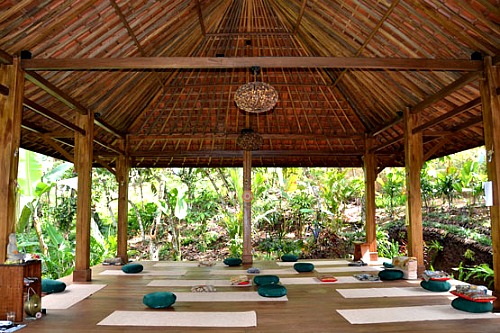 There is 5 bungalows at bali Eco Stay to choose from. you can choose from rice paddy, mountain, or jungle views. The latest edition the Buddha Bungalow looks down to a crystal clear stream.
All of them have mosquito nets, hot showers, drinking water, tea and coffee and breakfast is included in the rate.
Little Padi Bungalow
Springwater Bungalow Video
Click Here!
Buddha Bungalow surrounded by a tropical garden and looking across the stream to the rainforest..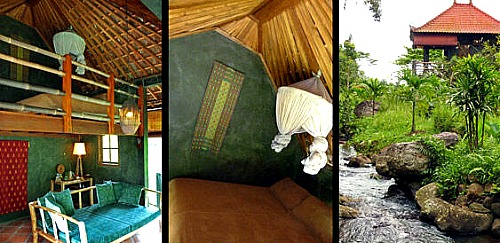 The best recommendation I can give you is that you must love nature to stay here and expect to co exist with their inhabitants. Also use their driver to take you to and from the airport.
It is a rough 25 minute climb up Mt Batukaru and can be challenging. Some drivers will complain and have been known to get lost. It is well worth the effort and is part of the adventure, but best to go with someone who knows the terrain and doesn't complain.
This resoort knows the word to give back.. by staying here you will be helping a lot of local projects, too many to go through, but believe me these people are making a huge difference in their community.
I wish there were more like it.
Local school children.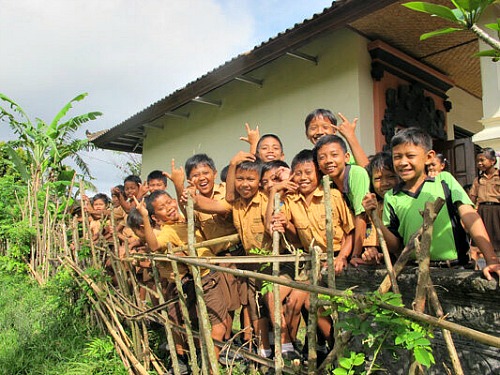 clear=all>