Discover Bali Discover Yourself
About Me
My Story...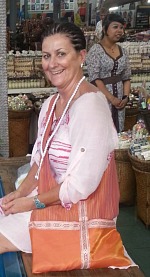 Hi, my name is Ann Laughlin, most people call me Annie. I have a nickname 'Sharky'...but that is a story for another day. 

I live on the beautiful sunny Gold Coast of Australia with my mum who I am caring for, and a spunky cat called Tara, and my son Brok lives close by. I plan to move shortly to the 'Island of the Gods',  indefinitely to continue on my journey and follow both my passions.. Bali and Healing.
I currently work from home now as a qualified Aromatherapist, Massage Therapist, Reiki Healer and Tarot Consultant. My love for Bali started on my first holiday there with my husband over 10 years ago. I fell in love with the spirituality that abounds there, the wonderful accommodating people, the amazing scenery and of course the array of wonderful food.

Bali and Healing

I decided to put together this website combining both my passions Bali and Healing..  I hope you enjoy reading about the wonderful retreats that you can visit in Bali and also learn more about the different ways you can heal your body, mind and soul.  Enjoy.
Feel free to contact me anytime...
Regards
Ann Laughlin
clear=all>