Kura Kura Retreat
Discover Bali Discover Yourself
What can I say about Kura Kura Yoga Retreat This is truly as authentic as it comes. It is a little piece of heaven on a magical island of Bali .
This is such a peaceful place to immerse yourself in yoga and nature. They are all about creating an intimate place to learn and experience yoga, by not only learning the techniques but also by living with the teacher.

I was only at Kura Kura Yoga Retreat for one day but I could see it is truly unique, the yoga by Satiza Satya and Sahaj follows the pattern based on the "Maha Bhuta" the great Elements of Earth, Water, Fire, Air and Space. It is an intensive experience designed to shift old patterns.They provide supportive surroundings and are great teachers, intertwining their experience with the different spiritual Balinese traditions and healers they have encountered.
They have packages which can be tailored to you, and also ongoing retreats during the year. The main focus they have is to help you develop a daily individualized yoga practice to take home with you to incorporate it into daily life. You will participate in the daily Balinese spiritual way of life, take part in ceremonies and be supported by healers guides and masseurs.
The rooms are clean, comfortable and elegant. It was originally built as a small family house in the old Java Style, which they have added extra rooms keeping with the same style. All the rooms have Western comforts, fans, verandahs, ensuites and the the humble mosquito nets.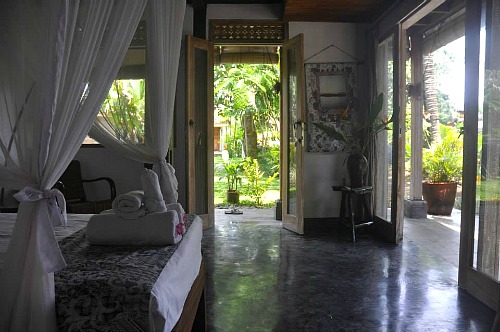 At the heart of Kura Kura is the yoga shala which is next to the pool, and is used as a community space... kick back there and enjoy the fresh afternoon breezes coming off the sea or go for a refreshing dip in the pool.

The gardens are immaculate - grass, lotus flowers, fountains, temples... great to wander around, and the staff are very friendly and can't do enough for you.. always smiling.
This yoga retreat is truly a healing sanctuary in many ways, situated along a small river, the sea and beach is on the doorstep. You can leave all your pressures and distractions behind and just sit and listen to the music of nature.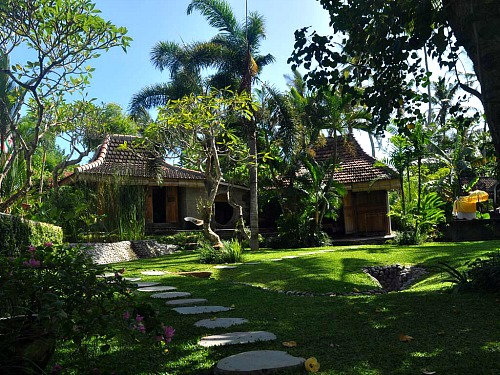 It is away from the hustle and bustle of Kuta, tucked away on the Southwest coast of Bali, it is part of a traditional fishing village called Seseh. Every afternoon you can find all the local families on the beach getting together flying kites or just enjoying the spectacular sunsets.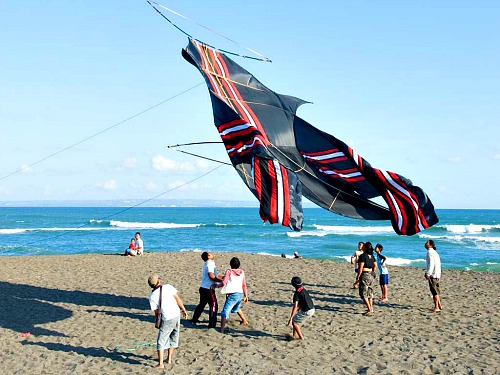 Click Here!
clear=all>