White Lotus Retreat
Discover Bali Discover Yourself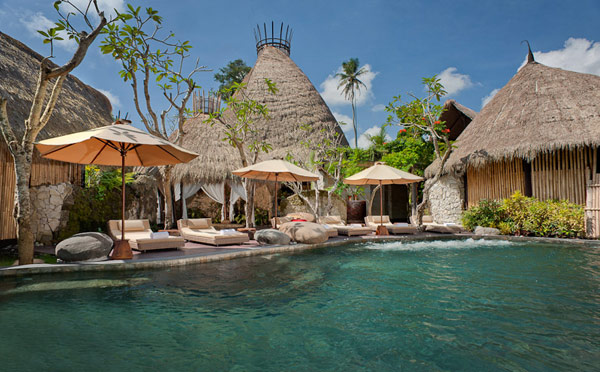 At White Lotus Retreat you will leave  feeling relaxed, regenerated and rebalanced, and thinking what a beautiful day it is, and I feel great! 

A cleansing transformational healing will take place and they guarantee you will feel your health and mental clarity improve so the physical, mental and spiritual energies can rebalance for inner peace and harmony.
White Lotus  Retreat also specialises in creating personalised Detox and Corporate wellness programs at a time and place that suits you! In Bali it takes place at the stunning Fivelements in Ubud and also in Byron Bay Australia.
The Fivelements in Bali exudes serenity, hugging the lazily flowing Ayung River and hidden outside the town of Mambal, the small village-like complex.
Fivelements Ubud Bali
White Lotus Retreat
Their 7 day luxury regeneration consists of healing low glycemic meals, organic cold pressed vegetable juices, broths etc. Balinese Ceremonies, Yoga, Meditation, Naturopathic Consultations, Balinese Massages, Lectures, Electroregenesis sessions,  Colonic Hydrotherapy sessions, detox supplements and daily monitoring of health.
There are lots of different types of packages, that you can choose, to suit what your body needs.
This Video shows you the beauty of Fivelements.
Heaing Rituals
At White Lotus Retreat the healing is inspired by the Balinese way of life, which encourages us to nurture a greater harmony with spirit, the environment and with one another. They collaborate with guests to activate and  facilitate a new healing path, following the balinese principle of Sekala-Niskala which  holds that we all live equally in two worlds. Healer Pak wayan works to balance the 5 elements of earth, water, fire, air and ether within the body.
Chakra balancing sessions, Prana Healing, Holistic Massage, Deep healing reflexology, Acupressure, Invigorating bodywork, and muscle release. all of which synchronise intuitive body and energy work to identify, balance and heal.
The food at White Lotus Retreat is divine, haute cuisine meet vegan, vegetarian and raw, presenting sublime flavours, delicately balanced, with perfect presentation. Local, organic, sustainably-produced ingredients. The food was some of the best I have tasted.
 Each room is enveloped in the hypnotising whisperings of the sacred Ayung River as it carves its way through the valley. Facing a verdant forest hillside with waterfalls and the natural wonders that are often captured in Balinese paintings, each suite features an open veranda poised above the river's swirling currents and a private bamboo enclosure housing a large open-air bathtub hewn from a stone boulder.
Customised lighting showcases the seven colours of the chakras, bringing mind, body and spirit in unison with nature.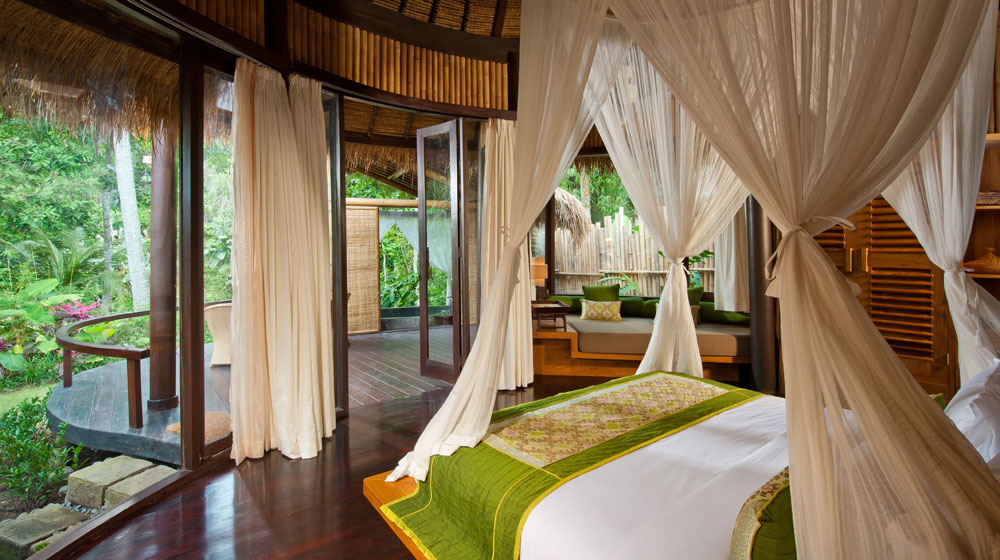 The nine sleeping suites, five named after each of the five elements in Balinese – Pertiwi (earth), Apah (water), Teja (fire), Bayu (air) and Akasa (ether), two Waterfall suites and two Bidadari (angel) suites, embrace the designs of nature fashioned in the forms of sacred spirals and organic leaves. The high grass-roofed ceilings, recycled timber floors, air-conditioning and flowing white curtains allow you to relax and find peace after a treatment, meal or meditation. The Asian style teakwood bed and sofa lounge areas are designed with traditional hand-woven songket fabrics and ikat dyes and designs, commonly used for Balinese weddings and royal ceremonies.
The adjoining indoor/outdoor bathroom features a lush, tropical garden with a rustic masonry stone wall and a large shower area opening to the skies and furnished with Fivelements' signature botanical essence amenities sourced directly from local farmers.
One of my highlights was a private yoga session with Made, he commences with a meditation. He is very good at working on postures that suit your needs and problems. It is a form of Tantra Healing Yoga and after each session I felt fantastic, he really addressed all my problem areas, stretching and strengthening my weaknesses.
Click Here!
clear=all>