Temple Lodge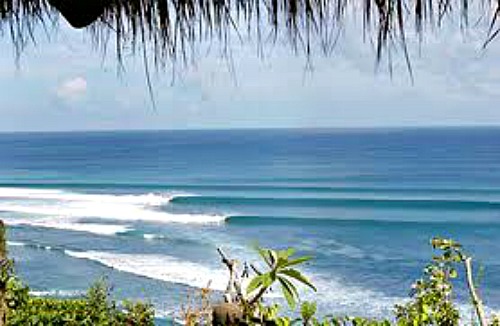 Discover Bali Discover Yourself
Temple Lodge has 180 degrees of amazing views... It is situated high above the surf break Impossibles, Bingin and Dreamlands.
If you want to kick back and get back to basics, this is it. Situated on South Bali's Bukit Peninsula, it is a world away from the hustle and bustle of Kuta, bur yet only a 45 minute drive. 
The whole place is built from natural materials available in the area. The roofs are thatched and the walls are made from coral stone. Inside the decor is rustic but truly magic.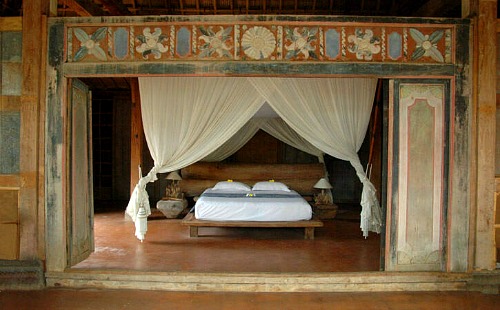 The shower in the Spice Suite..
Click Here!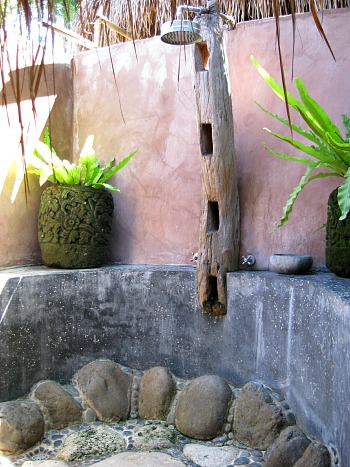 There are seven suites in all at the Temple Lodge. I haven't had the pleasure of staying overnight myself, but I did have the enjoyment of looking around during the day. They all have their own uniqueness, very individual with stunning ocean views, some with garden views and the Temple Suite has its own  private swimming pool.
Friends of mine have stayed in the Spice Suite and loved it. There is one big thing you have to watch out for and that is the cheeky monkeys.. They love to get into the suites and play havoc.. The retreat supplies a heavy chest to lock your luggage away.
All the suites have fans, hot water and mosquito nets.
View from the Coral Suite balcony.. a perfect spot for a lovely candlelight dinner.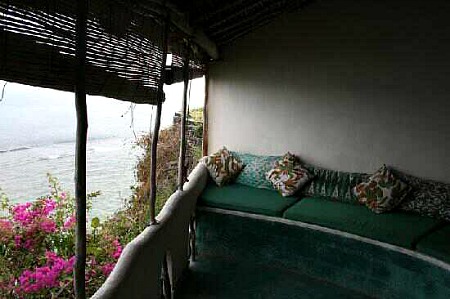 I did try out Dana's yoga class, which was great, she caters from beginners to advanced, They have yoga every morning for 90 minutes and some evening classes as well.They also cater for the surfers adding a surfing fitness class once a week.
While you are staying at Temple Lodge you must try  out the spa, if you have sore muscles, try out Mr Tendon, he is great but not for the faint hearted. I definitely came away feeling fantastic, the pain was worth it. He does a great pressure point massage.There are lots of other treatments to have ranging from stone massages to body scrubs and facials, all using natural products.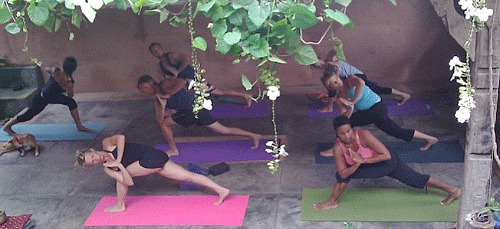 I did have lunch while I was there, I tried their famous prawn risotto, I thoroughly enjoyed it and the ayurvedic juices they make are fantastic. They buy most of their products from an organic farm in a mountain village of Bedugul, and the fish from a local fish market.
They cook a mixture of Ayurvedic, Vegetarian, Macrobiotic, Italian and Balinese. The food is plentiful, fresh and delicious, making most of their breads, jams etc from scratch.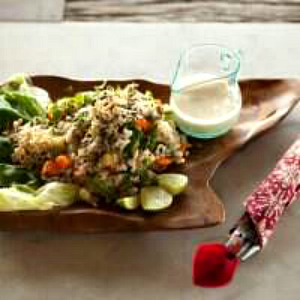 I can't leave this page without mentioning the POOL. It is like the rest of the retreat, unique. It is made of black volcanic stone, which retains the heat for relaxing sunset swims in the evening. Sublime... with fantastic views. Great way to finish the day.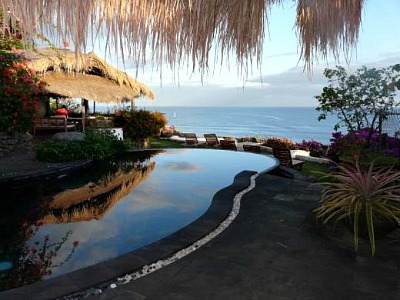 Sunset at the Temple Lodge pool..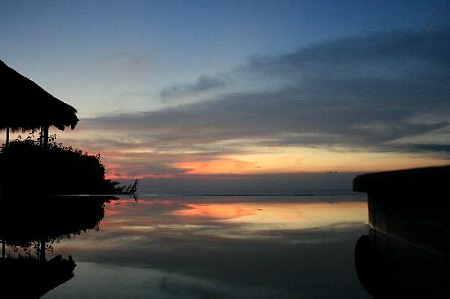 clear=all>